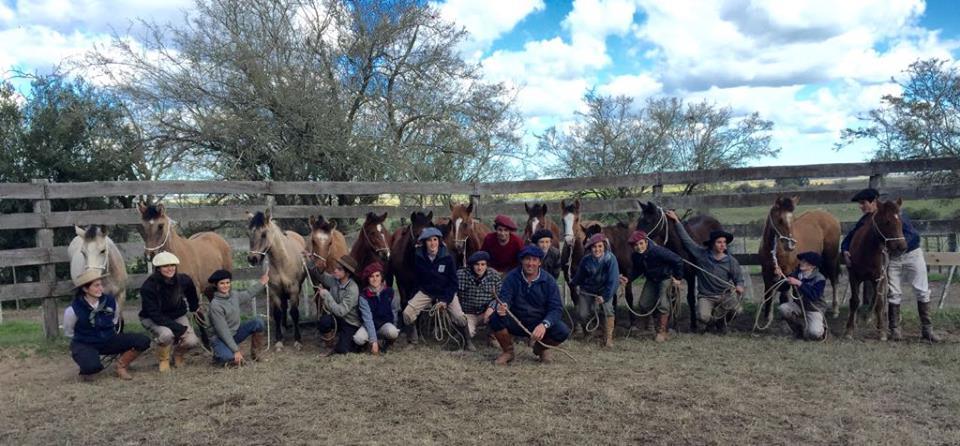 During the week-end of August 19th, in Uruguay, at Martin Gurmendez's place, Cabaña el Chamane, a very special Course with foals and children took place, in order to manipulate and make the foals more familiar to the contact with humans. 15 young girls and boys from 11 to 16 years old participated to the course, with their own foal. Every foals used for this course were complitly wild and had never been touch by humans. After 2 days training with the foals and children, Martin Gurmendez aknowledged that they all reached amazing results!
Clementaina Sartori who participated to the course and published many photos on her facebook page, explianed with details her feelings and experience:
"Curso dictado por Los Pingos Marcelo Gonzalez, quien nos demostró que la manera tradicional en acercarse a un potrillo ya no es tan útil como la manera racional. En estos dos días se aprendió muchisima cosa, se aclararon dudas, se abrió un abanico de posibilidades para situaciones diferentes. Parece bobo que alguien haga un "curso de amanse de potrillos", pero realmente no lo es, ya que lo que se trabaja cuando se comienza la doma es el fruto del trabajo en su primer contacto. Sin violencia, sin ansiedades, sin apurarnos. Creo yo que la gran mayoría quedó extremadamente satisfecho con el trabajo hecho. Trabajo en equipo e individual hicieron la diferencia desde el sábado de mañana a el domingo a la tarde. Nuevamente un lugar donde se respetó al otro durante la convivencia, rondas de chistes, juegos y guitarreada, se compartieron opiniones y sobre todo se ayudó cuando alguien lo necesitaba.Sin más palabras que aportar, nomas digo que se venga otro curso! "
A unique experience that should be repeated!
More pictures on the Cabaña el Chamane's facebook page :
www.facebook.com/cabana.elchamame



Curso de amanse de potrillos- Agosto 2017